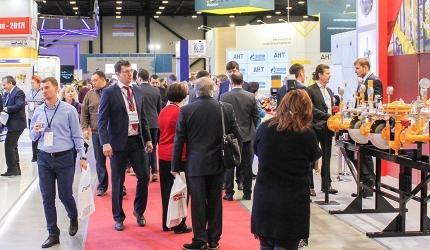 Michael and Carolyn traveled to Las Vegas in January to attend the Promotional Products Association International (PPAI) trade show. The magnitude of this show is always astounding. They walked 1 million sq ft of convention space and looked at thousands of promotional product ideas to bring the best of the best back to you. Ranging from useful to playful to eco-friendly, we're featuring some of their favorite products.
Refresh Glass
Wine bottles are upcycled into glassware, carafes, and planters. We can imprint them with your logo. These gifts are kind to give and kind on the earth.
Compressed T-Shirts
These eye-catching promotional products include a t-shirt printed with your logo and compressed into one of 350 shapes. A full-color insert card appears beneath the shrink wrap.
Fill it Forward Water Bottles
Scan the barcode on these reusable water bottles to track positive environmental impact and team competitions. Each scan also adds to a charitable contribution.
Custom socks
We got a kick out of these custom socks. Your logo or message is woven into ultra-soft combed cotton. Custom labels and packaging also available.
Squared Bassett Performance Pen
The square shape of this pen barrel gives you more space for your company logo and information. All imprints are done in full-color so your brand really stands out.
Custom Tie-Dye Kit
This kit includes ten dye colors and a white t-shirt imprinted with your logo. This items tops our list as the "most fun" promotional product of the spring. Sizes for kids and adults available.
Spring and summer are the busy seasons for events in New England. At Minuteman Press, we can create promotional products to help you stand out at business shows, team events, fundraisers, and festivals. We'll turn your ideas into attention-getting items that stay within your budget. Our local customer service staff is ready to help!

T-shirts are a highly-effective way to promote your brand. Consumers keep t-shirts for an average of 14 months, longer than every other promotional product category except outerwear. Brand recall is higher for apparel than other promotional items, with 85% of consumers being able to remember the advertiser that gave them a shirt or hat. In addition, branded T-shirts generate an average of 3,400 impressions, more than pens, umbrellas, or mugs1.
Unfortunately, fabric manufacturing can be harmful to the environment. From the growth of cotton to the by-products of manufacturing, there is an impact on the earth.
When Michael canvassed the floor of the PPAI show in Las Vegas, he was happy to see many vendors focusing on sustainability and environmental awareness. We've always believed in voting with our dollars and supporting companies with ethical and eco-friendly practices. He found several t-shirt brands that have re-thought the traditional manufacturing process.

The Allmade sample we have is possibly the softest t-shirt we've ever felt. When we picked it up, it actually made us take pause. It's that t-shirt you're always reaching for when you open the drawer. The kind that makes you feel disappointed when you realize it's still in the hamper from last time.
The way Allmade manufactures their shirts is a huge bonus. Their tri-blend shirts are made from three eco-friendly and responsibly sourced materials…US grown organic cotton, recycled polyester, and Tencel Modal. Each of these tri-blend shirts contains the equivalent of 6 plastic water bottles. The Allmade 100% cotton shirts are made from cotton grown in Texas and fabriated in the Carolinas, reducing the environmental impact of shipping.
Allmade has a nifty impact calculator so you can see the real-world effects of choosing sustainably made shirts.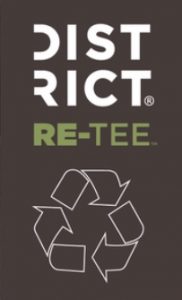 District is making waves with their new Re-Tee. Made from entirely recycled content, it's an eco-friendly choice with budget-friendly prices. The colors come from old t-shirts and recycled polyester fibers, so there's no need to re-dye it. This process eliminates the need for a traditionally water-intensive dyeing process and the need for new raw materials. By recycling existing fabric scraps, District is keeping materials out of the landfills, too.

We're pretty sure that you're familiar with Hanes. The good old standard in t-shirts and socks is probably found in most American homes. Did you know that Hanes prides itself on social and environmental responsibility?
Their website has a fantastic interactive tool that explains how Hanes t-shirts are responsibly made. They focus on water conservation in their cotton fields, low-waste yarn spinning, and state-of-the-art renewable energy in their facilities, They're also reduced their carbon emissions from transportation by 50% since 2008. Way to go, Hanes!
We also thought we should share their effort to help homeless people around the US with their 10th National Sock Drive. Since starting this program in 2009, they've donated 3 million pairs of socks. Click here for more info on the Hanes 2019/2020 Sock Drive.


Marine Layer is a fun brand based in San Francisco with stores around the US. Their focus is on shirts that are so soft you'll never want to take them off. From day one, they've focused on people and the environment. Their signature fabric contains micro-modal, made from recycled beechwood.
…and then Marine Layer got even better when they introduced Re-Spun. They recycle old t-shirts into new t-shirts with an entirely water-less, closed loop system. Talk about dedication to sustainability! They make their Re-Spun shirts without any water, dyes, or new materials. Their process starts with donations of old t-shirts, sorted by color and broken down to the fibers. They add recycled plastic water bottles to the fabric and create super-soft new shirts! Here are some fun FAQs about the process.
Marine Layer makes most of their shirts in the US, but when they occasionally have to outsource overseas, they utilize factories with the same standards we'd have here.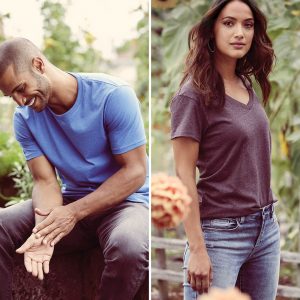 So whatever your vibe or style, we have an eco-friendly shirt for you! From the traditional look of a Hanes tee to the laid-back weekend attitude of a Marine Layer tee, we can help you choose the right style for your employees or customers. We can imprint all of these styles with your logo or message, and you can feel good knowing that you made an eco-friendly choice while still promoting your brand.
1 source: https://www.asicentral.com/news/web-exclusive/january-2019/2019-ad-impressions-study/