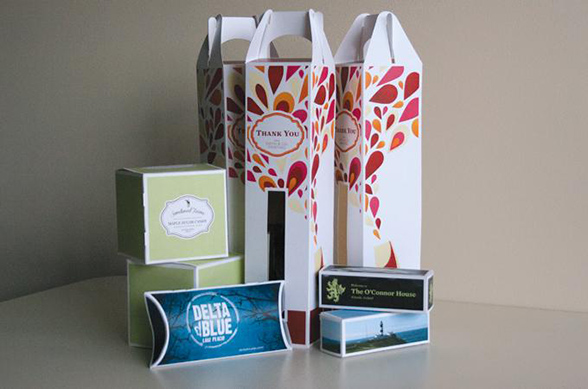 We are so excited by this new product from Mohawk!  While you may not share our general exuberance for printing, we think these items will catch your attention!
We are now offering the new Mohawk Dimensional products.  Customized boxes and tent cards are nothing new, so why are we excited about these?  These items are pre-perforated, pre-scored, and print from a template that we customize with a design for you.  In a nutshell, these are a fast and affordable way to make a statement!
Mohawk provides these products as flat sheets of paper and we print on them the same way we do brochures or postcards.  After they're printed, they easily pop into shape.  Because these are off-the-shelf products, you can order a small quantity and have them in a day or two.
Options include cube box, gift box, table tent card, pocket folder, golf ball sleeve, wine bottle box, greeting card and door hanger.