Reach 10,000 households for $275!
Pricing includes graphic design, printing, and postage.  No hidden fees!  No long-term commitment!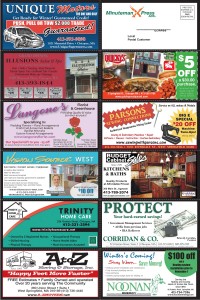 The benefits of our Xpress Ads flyer make it a great advertising choice:
Your 3″X6″ ad will be professionally designed to match your company image.  We send a proof by email, and you have the opportunity to make changes.
Xpress Ads reach mailboxes as a glossy, high-quality flyer.  The ads are instantly visible to the reader…NOT hidden in an envelope or as a newspaper insert.
Xpress Ads allow one business per industry.  No competitors included in the same flyer.
Xpress Ads have reached households in West Springfield, Longmeadow, East Longmeadow, and Wilbraham.  Our advertisers are seeing results, their coupons are being redeemed, and they are renewing for multiple issues.  See the results for yourself!
Coming this month to mailboxes in Hampden and Enfield.
Please contact us to learn more about XPress Ads for your business.