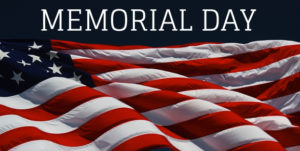 On Memorial Day, we pause to remember the men and women who served our country and lost their lives.  We also give thanks to our veterans and active duty members for their service and defense of our freedom.  We raise our flag with pride and freedom because of their dedication.
"They fell, but o'er their glorious grave.

Floats free the banner of the cause they died to save."

Francis Marion Crawford
This Memorial Day weekend, wave your American flags with pride and enjoy the company of your friends and family as you celebrate our nation's heroes and pastimes.