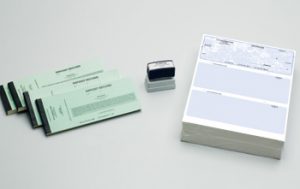 In addition to marketing materials and stationery, did you know that we can also produce your business checks?  That's right!  Quality printing, the latest security features, and the ease of ordering from us.  All we need is a voided check from your current supply.
We produce laser checks for all major accounting software packages as well as manual checks.  We can do basic checks or customize them with your logo in the background.
Contact us for more details!  We're here to help.
Bookkeeping keeping you down?  We can also produce signature stamps and envelopes with your return address to save you time.