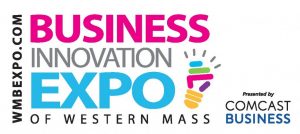 We exhibited our products at the Business and Innovation Expo of Western Mass in Springfield yesterday, but we didn't realize how much advertising the show would actually yield.  We were featured in a segment on 22 News about the business climate in Western Mass!  For the video, click here.
"Being aware of the great talent that's here and the employees that are available for hire, that's been a huge thing for us," said Weber. "Finding the right people has been very easy. Knowing what we're looking for and those kinds of people. There's just a great workforce here in western Massachusetts and a lot of the large businesses have been receptive towards working with other smaller businesses that are here."
After our 15 seconds of fame, we were also pleased to meet dozens of other business leaders from the area.  We demonstrated great new items like snag-free polo shirts, customized chocolate gifts, and roll up banner stands.  The show had great content and energy, and the day was a success!