When Michael went to the PPAI show in Las Vegas, we promised to share some exciting new ideas from the promotional products industry.  Many people think of "give-aways" and the old standards are brought to mind…pens, mugs, keychains.  There is still a time and a place for these classics, but the world of promotional products is SO much more interesting now.
If sustainability and environmental impact are on your mind, the industry hears you.  Each year, more companies introduce products that help you market your business with minimal environmental impact.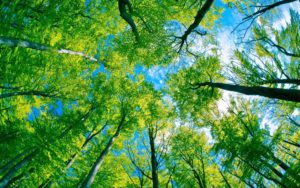 Who would have thought that someone could re-think paper?  It seems like such a basic product.  Sure, it comes in different weights and colors, but it's just wood pulp, right?
A few years ago, we started using synthetic papers for printing menus. Some of our restaurant customers want extremely durable paper that won't dissolve if it lands in a ring of water.  Synthetic paper means that their menus are durable if they get wet and last much longer than standard cardstock.
Michael found something equally interesting this year.  Washable paper.  And yes, we tried it out. 
The sample we received is a small portfolio with a removable wrap-around elastic.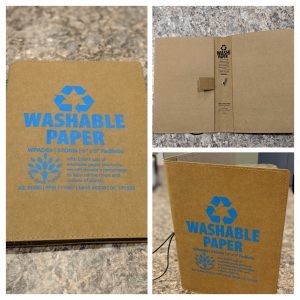 The instructions say to machine wash with cold water and dry flat.  We washed it three times to see what would happen.
Here are the results after it fully dried.  You can see that the inner right side has a wrinkle.  The left side with the pockets is still completely smooth, and the outside looks about the same.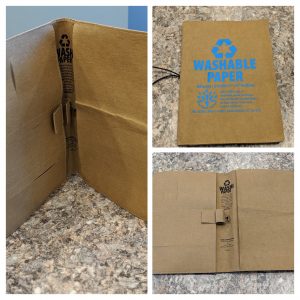 The washable paper looks and feels more like leather than paper, but it's just made from layers of kraft paper.
And the best news…we can produce shopping bags with this reusable paper!  Stores recommend washing bags after several uses to prevent the spread of germs. No problem with these paper bags!
Want another environmental benefit?  Evidence shows that plastic-based fabrics release small particles into the wash water, which in turn end up in our waterways.  With these washable paper bags, you'll be making a choice that's better for the environment during the lifetime of the product. 
Contact us if you want more information about the portfolios or bags. Stay tuned for more eco-friendly product features coming soon!