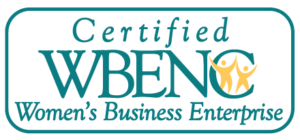 Minuteman Press is now recognized as a Women's Business Enterprise as certified by The Women's Business Enterprise National Council (WBENC).  WBENC is the leader in women-owned business certifications in the nation.  Their certification process is comprehensive and stringent, involving a detailed business review and a site inspection.  Our status as a certified woman-owned business guarantees purchasing agents that the majority shareholder in our business is female.
By working with businesses owned by women and other minority groups, government agencies and large corporations ensure diversity in their supply chains and vendor programs.
Now when you order printing, promotional products, or customized apparel from Minuteman Press, you'll be receiving quality products and supporting a diverse business community.