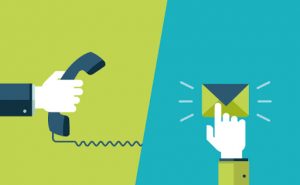 Minuteman Press is still open!  We are an essential service because we print for hospitals, doctors' offices, retailers, and municipalities.  We are still here to help you with printing, mailing, promotional products and more…but we're doing it with caution and creativity. 
Communication…without being together.

We can communicate by phone, email, or video chat.  We're happy to communicate in the way that makes you most comfortable.

Delivering your orders…without seeing you.

We can ship your completed order to you.
We can leave your completed order outside our door in Enfield so you can pick it up.
We can deliver your order to your business, and we'll leave it outside your door and call you to say it's there.
Not sure how to reach your customers while observing 'social distancing' recommendations?  Ask us about lawn signs, banners, postcards, and mailed catalogs!
---
We are wishing all of our small business partners success through this unusual time!  If we can help in any way, please don't hesitate to reach out.  We will do what we can to help you with unique challenges.